Tags: Indian T20 League 2021, Kolkata XI vs Bangalore XI, 30th Match at Ahmedabad, May 03, 2021, Kolkata XI, Bangalore XI, Covid
Published on: May 03, 2021
Scorecard | Commentary | Graphs
Monday's IPL 2021 encounter between Kolkata Knight Riders (KKR) and Royal Challengers Bangalore (RCB) at the Narendra Modi Stadium in Ahmedabad has been rescheduled after two KKR players tested positive for COVID-19.
A BCCI statement confirmed that spinner Varun Chakravarthy and pacer Sandeep Warrier have tested COVID-19 positive. The BCCI statement read:
"Varun Chakaravarthy and Sandeep Warrier were found to be positive in the third round of testing in the last four days. All other team members have tested negative for COVID -19.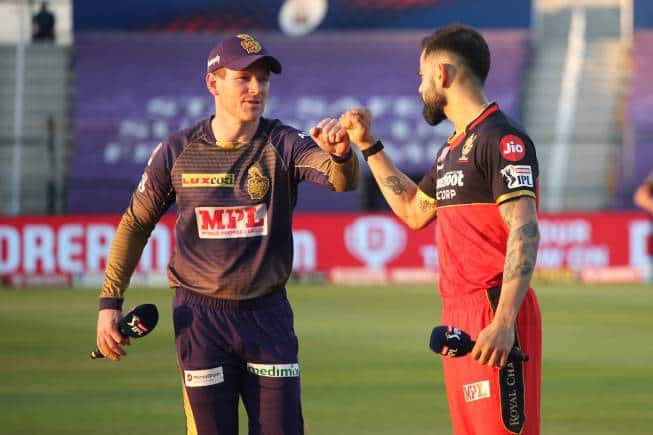 Both the players have isolated themselves from the rest of the squad. The Medical Team is in continuous touch with the duo and are monitoring their health. Meanwhile, the Kolkata Knight Riders have now moved towards a daily testing routine to identify any other possible cases and treat them at the earliest.
The Medical Team is also determining the close and casual contacts of the two positive cases during the 48 hours prior to collection of the sample that returned the positive test results.
The BCCI and the Kolkata Knight Riders prioritise the health and safety of everyone involved and all measures are being taken in that endeavour."
Putting out a Tweet, RCB wished Varun and Sandeep a speedy recovery. The RCB statement read:
"Today's match between KKR and RCB has been postponed by the BCCI as per IPL Safety Guidelines after Varun Chakaravarthy and Sandeep Warrier tested positive for COVID. We wish Varun and Sandeep a speedy recovery."
Before this, KKR's Nitish Rana, DC's Axar Patel and RCB's Devdutt Padikkal had tested COVID-19 positive before later returning negative tests.
According to official figures, in the last 24 hours, India registered 3,68,147 new COVID-19 cases. As many as 3,417 new COVID-related deaths were also recorded, taking the nationwide death toll to 2,18,959.
On Monday, Cricket Australia pledged 50,000 Australian dollars to aid India in the fight against COVID-19. An official CA statement informed:
"Australian Cricket will throw its support behind India's COVID-19 Crisis Appeal, with Cricket Australia, the Australian Cricketers; Association and UNICEF Australia partnering to raise much needed funds. Australian Cricket has been deeply saddened by the devastation caused by this second coronavirus wave to hit India, a country with which Australians share a strong friendship and connection."
–By A Cricket Correspondent